Liquid Biological Soil Amendment
Premium Concentration Liquid Biological Soil Amendment
Microbes BioSciences Rhizogen® LF+M liquid is an eco-friendly liquid microbial amendment that supports soil and plant health in all major ornamental plants, shade, fruit trees, ornamental trees, and tropical plants. The product enables growers to:
improve soil biodiversity and plant health

reduce the use of fertilizers

enable water conservation
Rhizogen® LF+M liquid is an extra-highly concentrated, liquid microbial amendment intended for uses such as:
botanical gardens and arboreta

Master Gardeners' landscape works

plantings designed by landscape architects

public gardens

landscapes of government facilities, historic properties, business campuses, universities and public gardens

residences with intensively tended landscaping and plantings
Rhizogen® LF+M liquid is extra-highly concentrated to provide a number of benefits. Click Here to learn more.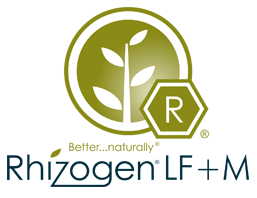 Product Description
Rhizogen® LF+M liquid is a microbial amendment containing seven strains of soil-enhancing Bacillus bacteria and four strains of Mycorrhizal fungi.  We use the same strains of bacteria and Mycorrhizal fungi as in our SoilCure® product line but at concentrations several times higher.  Rhizogen® LF+M liquid acts on the plant rhizosphere to create a beneficial environment for meristem root growth. The increased soil biodiversity encouraged by Rhizogen® LF+M liquid allows for enhanced organic mineralization, plant nutrient uptake, and photosynthesis.
Rhizogen® LF+M contains only naturally occurring strains of bacteria and Mycorrhizal fungi isolated from the environment.  We scientifically formulate this product to accelerate fertilizer plant uptake, nutrient mineralization, and ion exchanges in the soil.
Microbes BioSciences manufactures all of its products in its state-of-the-art facilities using our bioreactors.  Our hallmarks are microbe fermentations that yield extremely high concentrations of microbes that exhibit high vitality. Benefits of these high concentrations include increased and more rapid root colonization and a greater and more rapid impact on promoting the growth of indigenous soil and rhizosphere microbes.
Read more about the benefits of high concentrations
Benefits of High Concentrations in Stable Form
Faster soil colonization
Greater number of microorganisms in a single application and therefore faster response of the plant.
The spaces occupied by soil pathogens have less opportunity to multiply and occupy it.
Being able to use a lower dose of product Ideal Product to diluted or blended with other elements ( humic acid, fertilizers, fulvic acid, carboxylic acids) due to its high concentration.

A highly concentrated product accentuates Mechanisms of Action against Pathogens
Through Antibiosis
Competition
Siderophore

Induced systemic resistance (ISR)
How does Rhizogen® LF+M support soil health and plant growth?
Improves soil through greater biodiversity

Increases crop yield and quality

Allows reduced reliance on other agricultural inputs such as chemical fertilizers

Introduces necessary essential soil bacteria and replenishes colonies after herbicide and fungicide use

Establishes beneficial Mycorrhizal fungi associations
Exploits the synergistic effects of combining plant growth-promoting beneficial bacteria and mycorrhizal fungi

Accelerates soil mineralization for greater nutrient and N-P-K uptake

Solubilizes plant nutrients in organic form, increasing plant availability and uptake

Enables uptake of nutrients from outside the plant rhizosphere

Suitable for organic food production

Environmentally sound: non-toxic and no harmful runoff
Rhizogen® LF+M can be applied in-furrow, as a root or seedling dip, blended with liquid fertilizers and amendments, impregnated onto dry fertilizers and amendments, as a side dress, by drip irrigation, and in hydroponic and other controlled environment agriculture settings.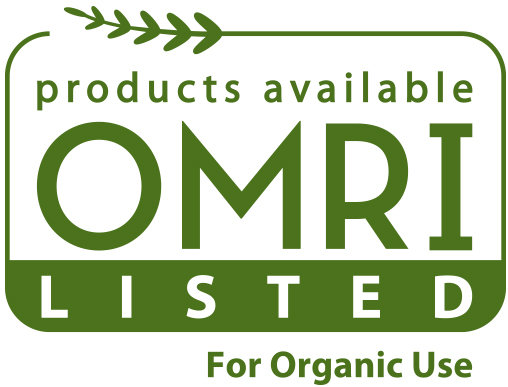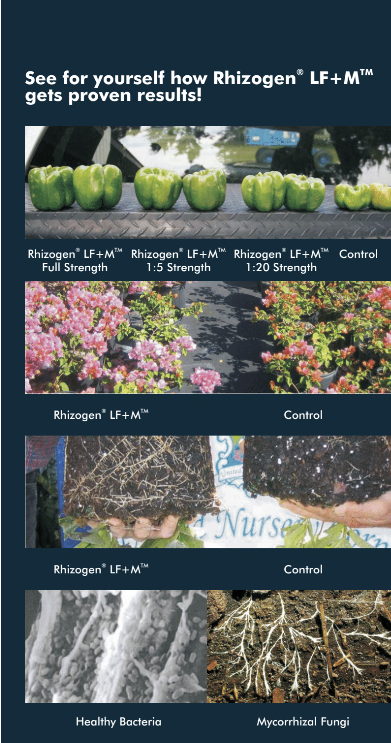 MicrobesBio's Rhizogen LF+M is manufactured with state-of-the art bio-reactors, such as the New Brunswick 150L, for cultivating cell cultures.